Rini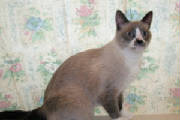 Michigan
Email for more information on Rini
Hello,

My name is Teresa.
I have a seal point siamese/snowshoe in desperate need of a new loving home.
Her name is Rini and she was born on 11-19-02.
She is fully declawed (because she has a fear of heights), spayed, and she is up to date on her shots.
She does not like dogs (she hisses constantly at our 2 dogs), other cats, or babies/toddlers.
She is very independent, but also very loving and talkative.
I can no longer keep her as she has already bit my 2 year old son without provocation.
I just can't bear the thought that of putting her to sleep--we tried to bring her to the Humane Society but they said they would only put her to sleep...she's not a bad cat--she just needs to find the right home and unfortunately it is no longer with us.
If there is any way you can help, please let me know.
I have attached a picture of her and if you need any other information don't hesitate to e-mail.

Thank you in advance,

Teresa



Urgent!!!

Click on the photos for more information and contact links.
IF YOU CANNOT FOSTER OR ADOPT ONE OF THESE CATS, PLEASE EMAIL THE CONTACT AND LET THEM KNOW IF YOU CAN HELP WITH FEES


No photo available.

My Mom recently passed away, and I need assistance finding her Snowshoe
kitty a new home. Sable is:

1) Current on all shots (have vet records)
2) About 9 years old & Spayed
3) No front claws
4) Indoor cat only
5) Very quiet, loving companion that was quite well cared for by my Mom.

We are currently boarding her at the vet and would like to find her a
foster/permanent home ASAP. We would be glad to contribute financially to
her fostering and/or permanent placement expenses.

Please call me to further disuses any assistance you can provide.

Thank you!

Robert Walker
Dallas, Texas
214-850-2024-Cell phone- please call anytime

Email if you are interested in Romeo
Romeo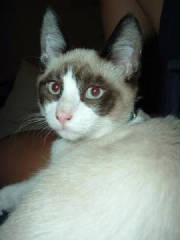 Click to enlarge
Oregon

This cat does not fit into the normal urgent category, but is here for two reasons: (1) Needs an indoor home (2) Has litterbox problems

Georgous Siamese mix outdoor family cat
Reply to: anon-85130800@craigslist.org
Date: 2005-07-17, 8:01PM PDT

Romeo is the absolute sweetest thing ever. He is absolutely georgous, and has a very sweet and plesant loving demeanor. He is tine and petite but holds his own outdoors just fine. He love others cats, children, and dogs. He does have one tine problem which is the reason he must remain outdoors. He sometimes forgets to use the litter box...this is obviously a big problem, but instead of taking him to the pound and making him someone elses problem, I know there is the right living situation for him somewhere. We have taken him to the doctor and are unable to determine if there is a medical reason for him to have this behavior. He absolutely loves to love and sleeps on the bed under your covers. He has plenty of energy, and is really a doll. He is about 2 years old and has been vaccinated. He is free to the right home. He really deserves a chance in the right envoronment for him.

Romeo
Click to enlarge
Romeo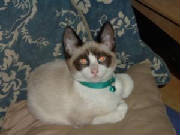 Click to enlarge
Romeo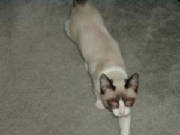 Click to enlarge